Even though all movies are scripted, actors use all the tricks in the book to sell us on their on-screen love stories. What is the best way to make a scene as genuine as possible? Improvise, of course! It can be intimidating to take your co-star by surprise and lay an unexpected kiss on them, but in almost all cases, the reward justifies the risk.
We at respect the actors who do whatever it takes to entertain us, and this time, we're turning to scenes in movies and TV shows that were elevated by unplanned smooches.
1. Chris Pratt and Bryce Dallas Howard in Jurassic World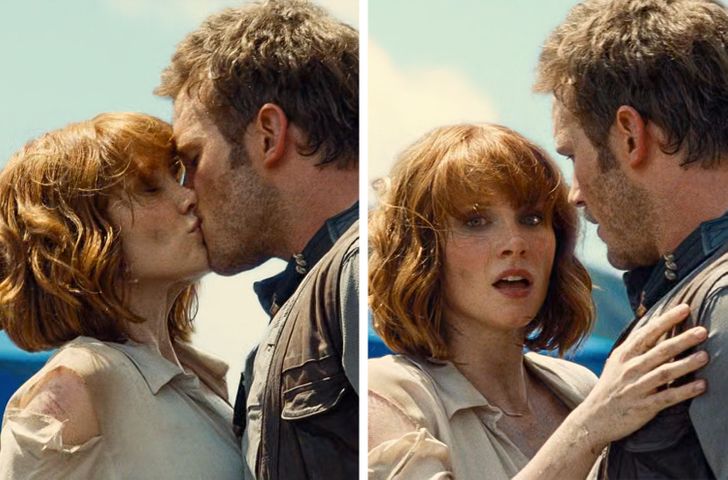 © Jurassic World / Universal Pictures
There's a scene where Howard's character finds inner courage and saves Pratt's character. Then, as a gesture of admiration and gratitude, he gives her a beautiful and cinematic kiss. In reality, it was all Chris Pratt thinking on his feet: "[The kiss] was spontaneous. It wasn't written in there…We had shot the scene in the way that it was written—there was no kiss. And then, on the last day, that happened—what you see in the movie… Everyone was cheering. It was great!"
2. Jennifer Lawrence and Amy Adams in American Hustle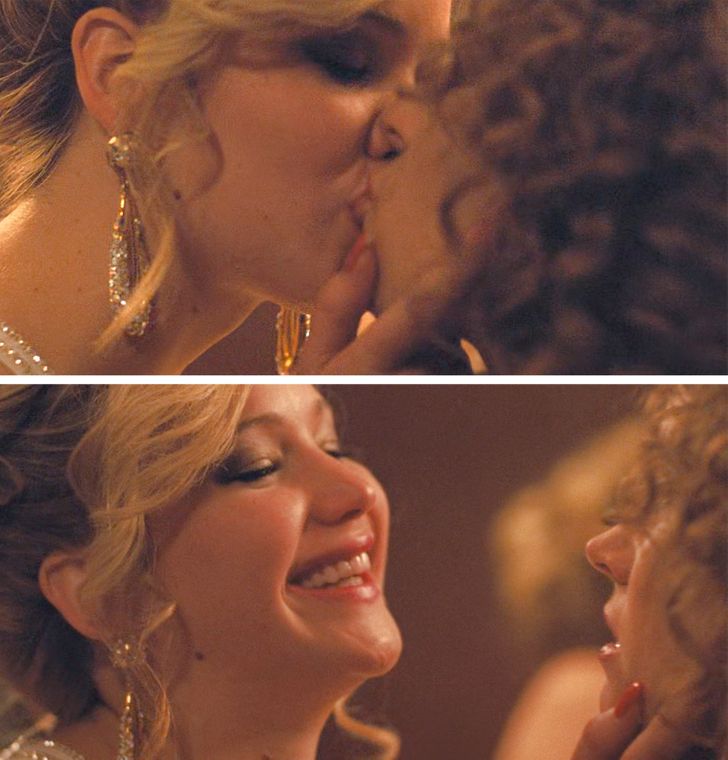 © American Hustle / Sony Pictures Releasing
Amy Adams revealed that she and Jennifer Lawrence decided to aggressively kiss in the middle of their characters' fight, even though there was nothing remotely similar in the script: "We were talking about the scene and I was like 'How about if she kisses her?' And [the director] understood… Jennifer was totally game. It ended up being like the perfect exclamation point on a toxic conversation."
3. Mark Hamill and Carrie Fisher in Star Wars: The Last Jedi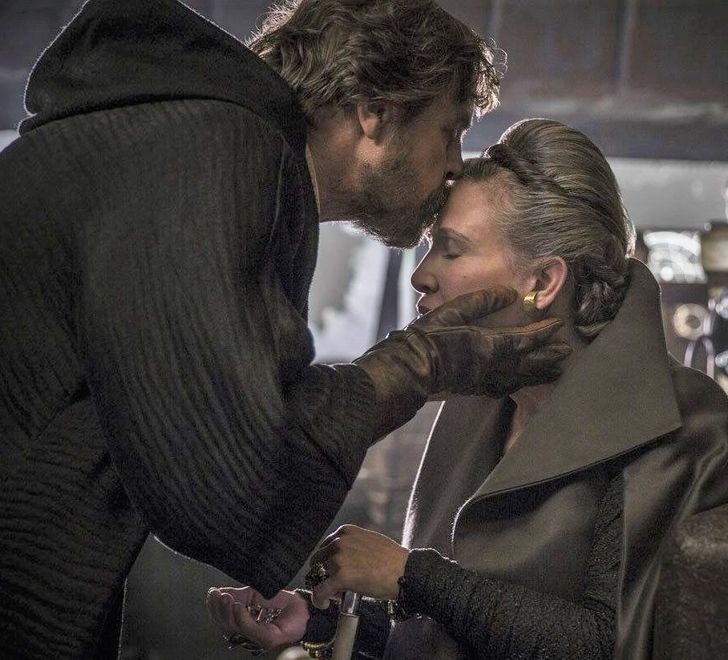 © Star Wars: The Last Jedi / Walt Disney Studios Motion Pictures
The most touching moment of the entire movie was seeing Luke and Leia reunite after years of being apart. Mark Hamill disappeared in that scene and gave the late Carrie Fisher an unplanned but tender kiss on the forehead, which became an ultimate farewell between the characters and actors: "I didn't decide it and say, 'Can I do this?' I mean, in the take — I don't know if we rehearsed it or not, but it just happened. I was standing up and they weren't ready for it. And we did it for a second take, and like I said, it was just spontaneous."
4. Woody Harrelson and Elizabeth Banks in The Hunger Games: Mockingjay — Part 2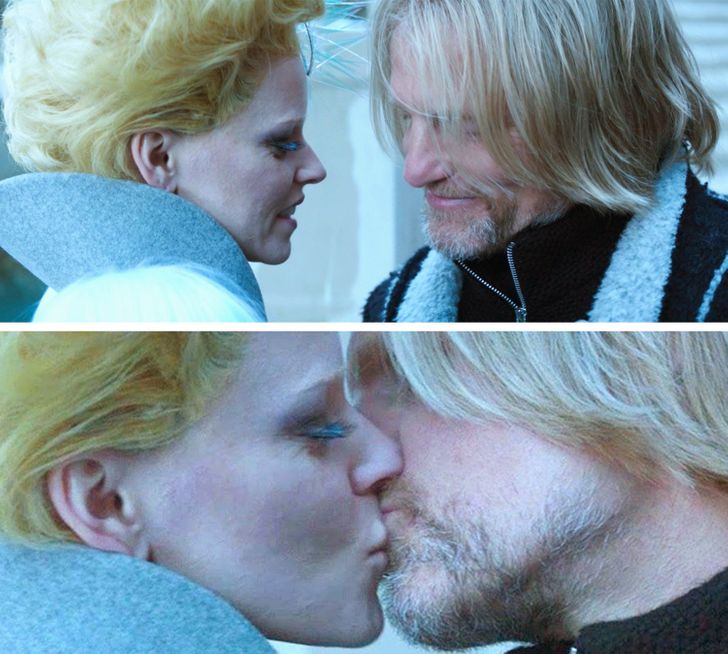 © The Hunger Games: Mockingjay – Part 2 / Lionsgate
We definitely didn't see this kiss coming in the final part of The Hunger Games series, but we'd be lying if we said we didn't want it. As Banks revealed: "Woody and I went into that moment, that wasn't written, we improv'd that. We decided to do it, and the director was like, 'I love it. Let's try it again.'" Harrelson also admitted that he probably enjoyed that moment even more than we did: "I have a crush on Elizabeth Banks, I'm not going to lie."
5. Helena Bonham Carter and Julian Sands in A Room with a View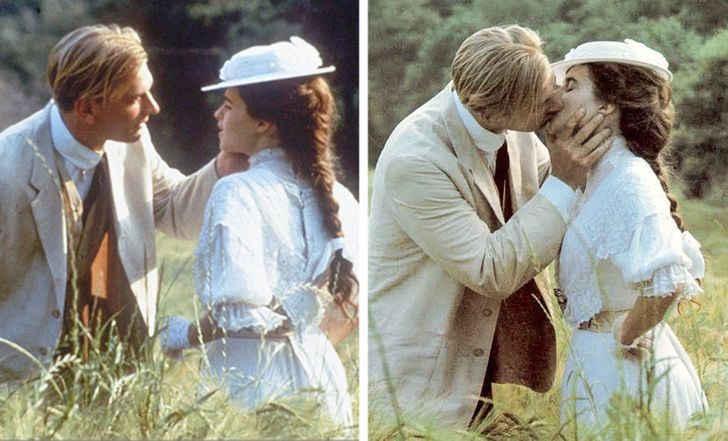 © A Room with a View / Curzon Film Distributors
This movie is regarded as one of the most romantic films of all time, and its iconic kiss in the field could stir anyone's heart. Helena Bonham Carter actually revealed that it was a wild ride for her: "You know the kiss that ended up being something everyone loved? That was totally improvised, right at the last minute." The actress was only 18 years old at the time and says she was trying her hardest not to laugh when Sands kissed her because she was inexperienced. We're glad Helena stayed in the moment!
6. Indira Varma and Gemma Whelan in Game of Thrones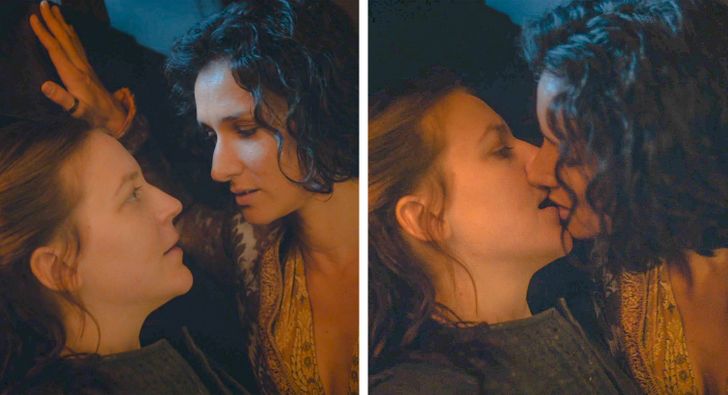 © Game of Thrones / Warner Bros. Television Distribution
On a show like Game of Thrones, it's surprising to find out that there was an unscripted intimate moment between the characters. However, when Varma and Whelan's characters finally came together in season 7, it felt natural to the actresses to finish the scene with a flirtatious kiss. As Varma revealed: "It wasn't directed that we would kiss. It just seemed like something we should do."
7. Max Greenfield and Jake Johnson in New Girl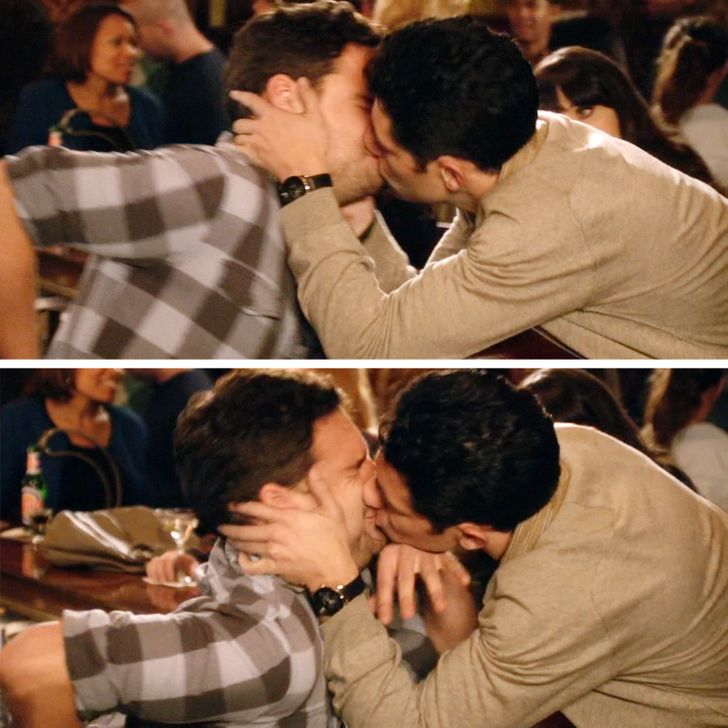 © New Girl / 20th Television
Greenfield had his own vision for his and Johnson's characters' friendship on the show and tried kissing him several times, after which, it became a running gag on New Girl. As Jake said: "Max improvised kissed me a bunch on the show." Greenfield added that he had some convincing to do: "Jake was against it at first, and I said: 'Just go with it, let it happen, let it be free, let it be in the moment.'"
ADVERTISEMENT
8. Miley Cyrus and Liam Hemsworth in The Last Song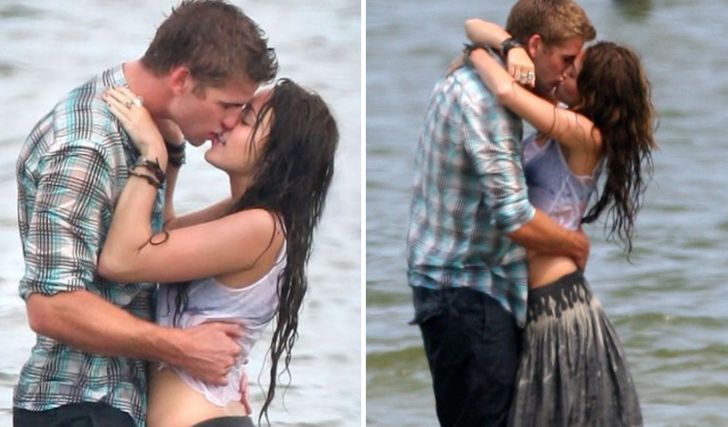 © The Last Song / Walt Disney Studios Motion Pictures
Miley and Liam's past romance blossomed on the set of The Last Song and it all started with an unplanned kiss. Hemsworth revealed that they were filming on the beach on the very first day of work and that they got into the lovey-dovey stuff right off the bat: "The funny thing about that scene was that originally there was no kiss in that scene. And the director was yelling out things throughout the scene, halfway through she yelled out: 'Kiss!' So we kinda got thrown into it, which was good cause, you know, I had no time to get nervous about it."
9. Bill Murray and Scarlett Johansson in Lost in Translation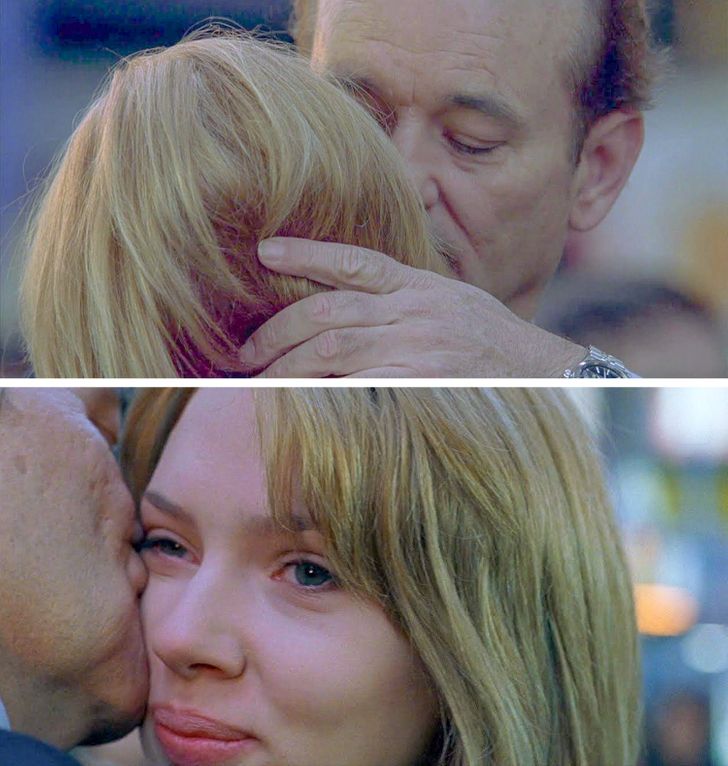 © Lost in Translation / Focus Features
Master of comedy, Bill Murray, apparently loved keeping his co-star on her toes during the filming of Lost in Translation. Director Sofia Coppola explained that the iconic farewell between their characters never meant to include a kiss. It was Murray who went with his gut and created something very special: "It was always meant to be this tender goodbye where they both knew that they had touched each other in some way. And I remember sometimes he would always spring things on her, and it was fun to get her reaction."
10. Steve Carell and Oscar Nunez in The Office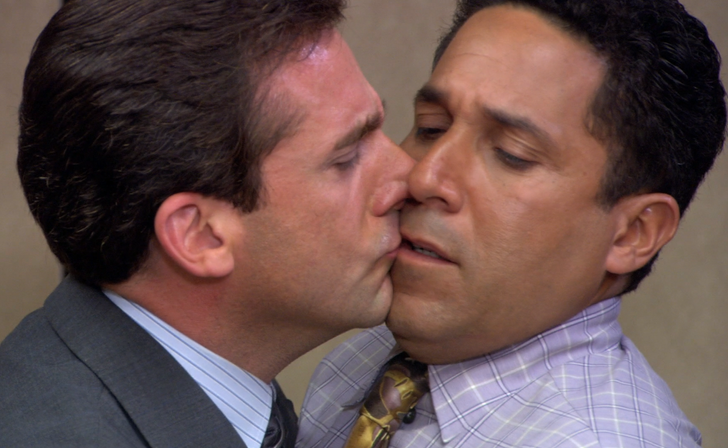 © The Office / NBCUniversal Syndication Studios
In an episode where Steve Carell's character found out that one of his subordinates was gay, the actor decided it was his time to shine. At one point, Michael Scott accepts Oscar and shows it in a very intrusive, but hilarious manner. Nunez said he did not see the kiss coming: "He wasn't supposed to kiss me, we were just supposed to hug, and he kept hugging me. And that particular take he came in really close, and I'm like, 'Where is he going with this?' Oh, dear, yes here we go." Huge props to him for not laughing during that scene.
Did you know about these? What's your favorite improvised scene from a movie?